Some years ago I designed a logo for Together in Barnet, a charity that runs an emergency night shelter for people experiencing homelessness. At the end of 2019 I became a Trustee. The charity is very small: trustees assist with operational duties; I have taken responsibility for the design and marketing, looking after the website, blog, newsletter and social media. 
I designed a T-shirt for the charity, for use at events, with a QR code on the sleeve guiding people to our website donations page. In 2021 I created a second t-shirt for a fundraising "walk in their shoes" event.
I redesigned a PowerPoint presentation for use at events. It was used at The Comedy Store in London for a benefit gig.

I had the pleasurable job of photographing the Comedy Store benefit gig which was hosted by the charity's patron Felicity Ward. I was lucky enough to meet her, Phil Wang and Stewart Lee!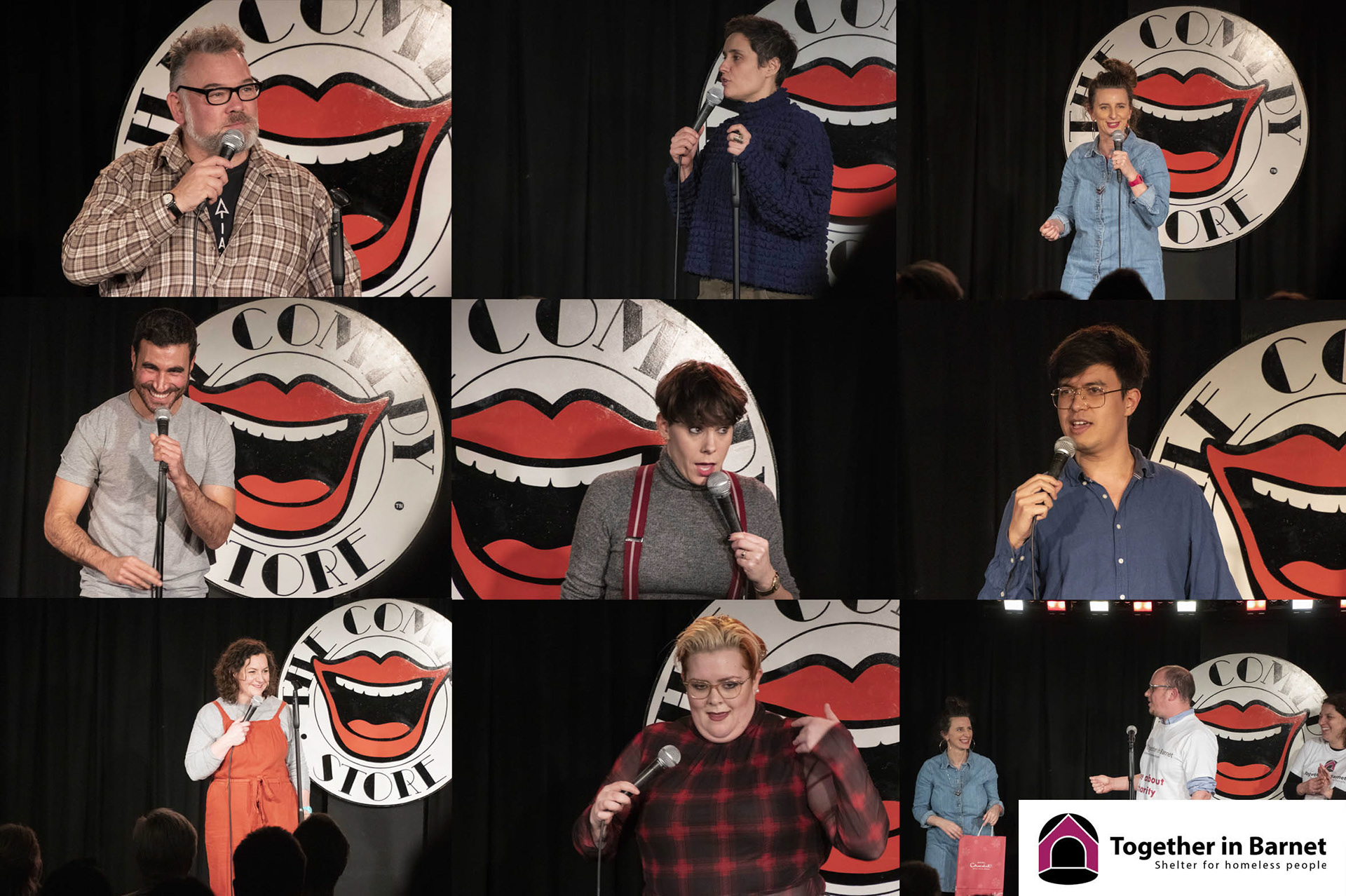 In June 2020 the charity had a Zoom fundraising event with the author Tamsen Courtenay who had written a book, publishing the stories of thirty rough-sleepers, having interviewed over 150 homeless people in London.
Working on creating short, consumable videos for social media was both harrowing (because of the content!) and immensely insightful.  I set up a
YouTube channel
for the charity and worked on using the videos to educate and encourage donations. There are some more videos on my
videos
page or you can see them all on the
charity's website page
.
In 2021 I created a couple of cartoons, using some basic software, that explain how the charity works and what it does, especially with things changing during the Covid-19 pandemic (the charity could no longer run an emergency night shelter as before and had to change the operating model). They are for use on the website and social media and encourage viewers to donate or volunteer.
The cartoons were voiced by the actor
Kim Ismay
, who starred in the theatre productions of Wicked and Mamma Mia.
I created a set of video slide shows to run as advert campaigns on Facebook / Instagram over the Christmas period 2021/2, asking for donations or volunteers. At the same time I created a video promoting a joint fundraising event with
Homeless Action in Barnet
- the Big Barnet Sleep Out, using an animated sign I made in After Effects.